Looney Labs is a Friendly Little Game Company
We publish the FLUXX series of card games... it has that certain something that makes a game addictive — 
when it ends, you want to play again immediately, even if you lost! Fluxx (and its various special editions) is the
company's best known product, but we have published many other award-winning games that are just as addictive.
OUR GAMES include time travel card games and board games featuring LOONEY PYRAMIDS, innovative
pyramid-shaped gaming pieces useful for hundreds of different games. 

Looney Labs Games are well distributed in specialty game stores. Visit our STORE LOCATOR to find the store nearest you that sells our games, or you can also buy directly from our ONLINE STORE. If you want to sell our games, visit our RETAILER pages.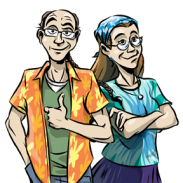 The company was founded in 1996 by Kristin and Andrew Looney, a
   husband and wife team that gave up successful careers as aerospace
   engineers (they met while working at NASA) to pursue their hobby business
   full time... they could tell early on the true hit potential this little card game
   Fluxx had, so they took the jump off the cliff and quit their day jobs, so they
   could dedicate all their energy to making and promoting Andy's games.
   You can read about OUR HISTORY on these pages, and for even more
   details, you can poke around in the archives of our BLOGS — we have been
   creating cool stuff and talking about it online since the very early days of the
   internet — please enjoy your journey through our many web pages.

OUR MISSION is "To Create Fun." But it isn't just that we make fun games... our games create fun times! The fun we have in making them, the fun you have in playing them, and the fun our retailers and demo team have in selling and promoting them. Thank you to all our fans for helping us make our dreams come true — for helping us build and grow our little game company! This includes so many fans… from the members of our FAN CLUB who jabber enthusiastically about how fun our games are, to fans who have joined our DEMO TEAM and promote our games at stores and conventions, and those fans who have become INVESTORS and helped us fund this adventure. Our retailers, our suppliers, our printing and fulfillment partners... so many wonderful people have helped us build this little game company of ours — please know how much we appreciate your friendship and your business! 
And of course... we couldn't do any of this without our team of amazing employees. We have eight full time employees, working out of an office in College Park, MD. CONTACT US if you have any questions or need help with anything regarding our company or our games. Looney Labs is a family owned and operated business — a friendly little game company... and we create fun!